09/11/2017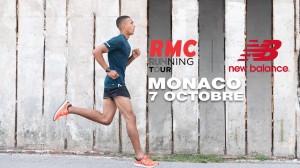 The Monaco Run invites you to be part of RMC RUNNING TOUR with NEW BALANCE, Saturday the 11th october on the track of the Louis II stadium.

For this occasion, you could run and receive some advices from Muriel Hurtis, World champion of 4x100m in 2003 and European champion of 4x400m in 2014.
The Coaches and physios of Xrun Team will be there to help you to progress during this trainning session.
Places are limited to 100 runners of all levels.

____________________
09/01/2017
NEXT EDITION
2018, Sunday March 11th
-
The Riviera Classic 2018 on standby
Main event of the Monaco Run, a comeback of the Riviera Classic from this year isn't guaranted at the moment.
Your signs of support shared on our social media and via our recent survey encourage us to continue the efforts, however the Prefecture agreement is obligatory to organize the race.

The final decision will be communicated at the end of october…
…when the registrations of the Monaco Run will open !